Order and Pick-Up
The store opens Saturday @ 10am and closes Wednesday @ 6pm. Pick-up is Thursday from 4:30-7pm at Stubborn German Brewery in downtown Waterloo. Bags are labeled and located outside on the patio with your name on it.

If you would like your home or business to be an additional drop point, contact me for details. 
We also wholesale to restaurants and grocery stores, contact us at betsyjones@feathersfarm.co or (618) 623-2868 for details.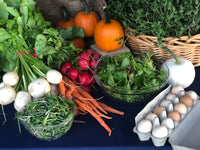 Feather's Farm Produce Bag
Best Value! Keep eating healthy and local with a produce bag of freshly harvested lettuce, root vegetables, and seasonal produce. Or choose to "build a bag". Every produce bag comes with one dozen non-GMO Feather's Farm Eggs.